North Carolina Medical Marijuana Business Licenses
Medical Marijuana a Likely Reality in North Carolina
Cannabis License Application Planning Starts Now
North Carolina could soon pass medical marijuana legislation as SB 3, the North Carolina Compassionate Care Act, continues to make progress through the Republican-led legislature. The North Carolina Senate gave initial approval in a 36-10 vote on March 1, 2023 after a similar bill stalled in 2022. As the bill makes its way to the House, recent statements from the North Carolina House Speaker point to approval at this final legislative step before heading to the governor's desk for final approval.
Contact State Legislators Now
While prospects for the bill passing into law this session are strong, residents of North Carolina can help assure this outcome by contacting state legislators to encourage support.
With the current state legislative makeup, estimates show that more than 50% of state lawmakers now back medical cannabis legalization. Governor Roy Cooper (D) has also stated his support for legalization efforts and recent polls show that close to 75% of North Carolina residents are in favor of medical cannabis legalization.
Start Business Planning Now
Under SB 3 provisions, the medical marijuan licenses application process in North Carolina will be competitive, with only 10 licenses available.
Business planning and financial modeling now is an important early step in being prepared for applying for a license.
Contact our medical marijuana license consultants now to start planning.
Top North Carolina Cannabis Consulting Services
How to Apply for a Medical Marijuana License in North Carolina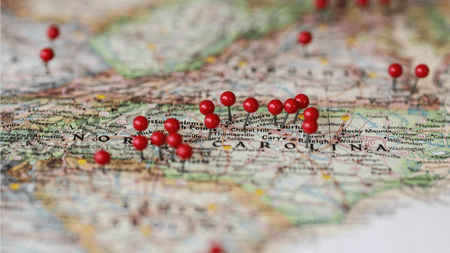 Under SB 3, North Carolina would award up to 10 vertical medical marijuana suppliers who would control the cultivation, production, distribution, and sale of cannabis in the state.
Each license winner could cultivate cannabis and operate up to 8 dispensaries, which are called "medical cannabis centers" in the bill.
What is the Medical Marijuana License Timeline in North Carolina?
After passage, a Compassionate Use Advisory Board and Medical Production Commission would be established to develop additional program details, regulations, and the application process and timeline.
Legislative analysis suggests that the first medical cannabis sale could take place within two years after final approval, which means the state would need to release applications quickly after legislation is approved into law.
Based on our license application work in 36 states, we predict that timeline could be as early as the latter part of 2023 to allow for the development of regulations, the application submission and review period, awarding licenses, and time for the first round of cultivation to be ready for sale.
What is Required to Apply for a North Carolina Cannabis License?
North Carolina Residency Requirement:
Applicants must provide proof of North Carolina residency for at least two (2) years and must be the majority owner of each medical cannabis center and production facility.
The applicant may include nonresident partners with demonstrated ownership and operation expertise in the cultivation, production, extraction, product development, quality control, and inventory management of cannabis products in a state-licensed medical or adult use cannabis operation
Application Fees:
The nonrefundable application fee for first-year suppliers is $50,000, plus $5,000 for each production facility or medical cannabis center the applicant proposes to operate under the license.
Proof of Funds:
Applicants must provide proof of adequate liquid funds and non-liquid assets to operate for two years.
Business Facility:
North Carolina medical marijuana license applicants must provide the address of each property proposed for operation.
Properties must be at least 1,000 feet from churches, child care facilities, public schools, and community colleges.
Cannabis and Operational Expertise:
North Carolina medical cannabis license applications will require documented proof of experience and expertise in 3 key areas:
Controlled environment agriculture and growing or processing cannabis product development, quality control, and inventory management of cannabis
Technical and technological ability to cultivate, produce, and distribute medical cannabis
Ability to secure cannabis production, testing, resources, transportation, and personnel
Proposed Operating Procedures: License applicants in North Carolina will be required to provide operating details for:
Each production facility
Each medical cannabis center
Medical cannabis supply system
Record keeping
Security requirements
Get Your Cannabis Business License in North Carolina
Learn how our proven expertise and unparalleled track record can successfully secure your North Carolina cannabis license.